Have you lived in or visited Massachusetts? Tell us about it!
Northampton
Hampshire County, Massachusetts, USA (North America) — July 2020 — Visited — I would not exactly call it a ghost town, but the number of people in the usually vibrant and busy downtown area was greatly reduced due to the Coronavirus lockdowns. The restrictions seemed to be more severe than in my own state of Connecticut. Walking into Thorne's Market, I was greeted by a man checking to see if I was wearing a mask. He offered hand sanitizer. Walking down the main corridor of this small shopping center, there was a barrier that kept me on the right side, so I could not freely cross over to a shop on the left side, without going to the end of the barrier and turning around. I also visited a small wine shop on a side street, and immediately felt far more restricted than I did going to stores in Connecticut. The walking path and direction was clearly laid out on the floor, so that you could go through the whole store, but only in the prescribed order and direction. You could not move about freely between aisles or back up. Not necessarily judging this to be a bad thing, just trying to describe the restrictions during these strange times. I will admit that my anxiety spiked immediately and a feeling of claustrophobia, or of being controlled, hit me when I entered these places. The BLACK LIVES MATTER signs were ubiquitous, with a variant of BLACK TRANS LIVES MATTER. This felt ominous, not because I am against saving black lives, but because this phrase has been associated sometimes with violent mobs who demand that everyone agree with their interpretation of what will improve black lives. The bookstore in Thornes had a display, right near the entrance, of books by radical authors, such as Angela Davis. I didn't see any diversity — no inclusion of authors such as Candace Owens. As for street beggars in Northampton, they have always been there, but I saw more of them on this trip, and they were more aggressive. I was approached by two men at my car in the parking lot as I was getting ready to leave. It was a little scary. It was the third time that day I had been approached for money.
Brockton
Plymouth County, Massachusetts, USA (North America) — March 2020 — I am located in Brockton Massachusetts in Plymouth County. As of now we do not have any cases of the Corona virus but I do know that there is now a case the next town over. Currently my children are home from school for the next 3 weeks. Yesterday our Governor has made it a statewide law that all schools will be closed for 3 weeks. He also stated that bars and restaurants will be closed for dine in but will be able to offer takeout or delivery. My children and I are staying home and following the social distancing rule. My son suffers from asthma and my daughter has anxiety so this has been a trying time for us. My husband is still working so that makes me uneasy since he delivers mail. I am worried about not only our health but also the state of the economy and what it is doing to us globally. I still can't believe this happening. I feel like I am in a movie praying for a happy ending. My family and I will continue to do our part by staying home and taking any precautions we can.
Tewksbury
Middlesex County, Massachusetts, USA (North America) — April 2018 — Tewksbury, MA 01876. Tewksbury is a town that is rapidly growing in population. My fathers generation remembers a town with farmsteads, now all that area has become condos and residential areas. Looking back a decade or so I can also see the large and rapid change the town is going through. Despite it all the town does have some large forest and woodland area that is government protected, so the area is still mostly green. One of my favorite parts of growing up in Tewksbury was all the ponds. You could always find a fresh stream or pond to go fishing in. While I grew away from that hobby as I grew up many people in town can be seen at the nearest hole. One nice thing about the population growth is that not only are these areas more protected, but some have added features to make viewing them easier. A pond that was very hard to access a few years ago now has a small dirt waterfront you can bring a small engine-less boat down. I do wish it would stop growing, but the loss of a lot of beautiful land here is inevitable. The town is located with easy access to 3 major highways through 4 different locations; one is just over the line in Billerica, but it is easy access. For reference on a day with no traffic a person living in Tewksbury can drive to Boston in about twenty five minutes. There is also train access very nearby for people in south Tewksbury. While it is in Wilmington many people in the neighboring towns use it as an easier way to commute to the city for work.
Halifax
Plymouth County, Massachusetts, USA (North America) — March 2018 — Halifax is a small rural town in the state of Massachusetts. Located in Plymouth county it's a connecting town between bigger ones such as Bridgewater and Kingston. Halifax is mainly comprised of small off-roads, both paved and dirt, with homes amongst many wooded areas. There are also a number of cranberry bogs, as cranberries are a big export. The main area of town is a stretch of route 106 that has the post office, town hall, police and fire station, elementary school and a collection of small businesses. This leads to the 'center' of town, that connects routes 58 and 106, and where the local WalMart is. Growing up, the area used to be a local farmer's market. The family that owned the market still lives in town and still sells their own harvest. There's also a handful of other small businesses and a few pizza places in the center. Halifax has many pizza places and a couple restaurants, but no fast food except for a Dunkin Donuts. Growing up here I've seen many businesses come and go; only a few places are still around today. Being a small town, people know each other and are friendly to each other. We try to help out each other and anybody new to the town.
Malden
Middlesex County, Massachusetts, USA (North America) — March 2018 —I currently live in Malden, Massachusetts. Malden is located in Middlesex County, approximately 5 miles north of Boston, Massachusetts. I feel good about Malden. It is a good place to live, it is an urban community which offers a good mix of smaller, older residential housing options, a nice little downtown area with restaurants and shops. Malden has two train stations which provide Orange Line service on the Massachusetts Bay Transportation Agency (MBTA) subway system. The Orange line in Malden is above ground, and rolls on raised tracks, most roadways pass beneath the tracks, there are a few small bridges that get cars up and over the tracks. I like Malden because I can walk from my house to the train station and be in downtown Boston in less than a thirty minutes. Malden is a very diverse community, in 2017, Malden's school district was rated as having the most racially diverse population in the United States. Malden has a great mix of Caucasian, and African American, Caribbean, Latino and Asian immigrants and this mix adds to the vibrancy of the city. Malden is the home of the Elisha Converse, and the original home of the Converse Rubber Shoe Factory, the company that later became Converse Shoes. Converse world headquarters are now located in Boston, but the company is still involved in the community of Malden. Malden has a new bike trail called Bike to The Sea which, when completed, will connect Boston with points on the north shore of Massachusetts. This bike trail is a link in the larger East Coast Greenway trail, which when completed, will connect Calais Maine with Key West Florida. I moved to Malden in 2013, it has grown in the five years I have lived here, and many new apartment and office buildings have been built, but it has managed to retain its small-city, urban character.
Haverhill
Bradford County, Massachusetts, USA (North America) — February 2018 — There are a lot of things I wished had happened differently in my life, but where I grew up and when is not one of them. I grew up in Bradford, MA, a part of Haverhill, MA, during the 60s and 70s. My neighborhood was a fairly new one when we moved there in 1958. Our house was only the third one built on what was previous farm land. We had lots of woods and field to explore. We also had a pond a short distance away where we played hockey, fished, and boated. We also had a gun club nearby. There were some farmers still in my neighborhood and I used to love seeing the animals and playing in the cornfields. The era I grew up in was also very interesting. There were lots of changes in society; some were good, some were bad. There were also lots kids in my neighborhood. There were many large families and it was easy to get a pickup game going at any given time. It wasn't all fun and games. We had our share of fights and bullying, but overall we had it pretty good compared to what a lot of kids go through today. Whenever people from the old neighborhood get together we go and on about all the fun we used to have. It drives my wife crazy, but my kids love hearing my stories about "the 'hood".
Martha's Vineyard
Dukes County, Massachusetts, USA (North America) — Why would anyone go to Martha's Vineyard in March? We wanted to escape the crowds and the high prices of summer. We didn't care about lying on the beach in the hot sun. And, March is when my college gives me a week off from teaching, i.e., spring break. We did save money. We were able to stay in a hotel in the heart of Vineyard Haven for $150 per night; the room would have cost about $400 during the peak season. We did escape the crowds and the traffic.
But March lived up to its reputation for coming in "like a lion." The first night we had planned to walk from our hotel to the famous Black Dog restaurant. But it was so cold and the wind was so fierce that we ate at the hotel restaurant instead. Our hotel had a deck on the roof with fantastic views of the water and the island. Tables and chairs were set up so that people could enjoy their breakfast on the roof. I ventured up there one morning to take some pictures. It was deserted for good reason: howling wind and freezing cold.
No sooner did we arrive in Martha's Vineyard than the weather forecasters began predicting a blizzard. Should we try to leave early? Nervously, we watched the forecasts, which increasingly made it sound like the storm of the century was heading toward New England, the only question being would Martha's Vineyard and Nantucket escape the brunt of the storm. We took our chances and stayed. The island was hit with heavy rain and wind, but no snow. We stayed inside all day during the storm. Weather aside, there was a lot to see and do. We engaged Martha's Vineyard Tours and Excursions for a private tour of the island. Our tour guide told us all about the history and some of the incredibly rich people who live on Martha's Vineyard. We saw John Belushi's grave. We saw the famous Gingerbread Cottages, my favorite part of the island. I loved seeing the ocean with snow on the shore. We wondered before going if anything would be open. We did run into some signs that said "Closed for the season," but there were plenty of places that were open. We felt like we had the island to ourselves. Crowds were nonexistent, and driving around was easy. We often drove without another car in sight. So we did have some fun, but never again would I return to Martha's Vineyard in the winter.
I know what Martha's Vineyard is like during the summer. Back in the 1990s, a friend and I stayed at a campground. I didn't like the crowds or the traffic, but we had a good time. We hung out on the beach; I went parasailing. The campground was upscale as far as campgrounds go. Skunks seemed to be everywhere, even venturing out during the day to eat around garbage dumpsters. As soon as we closed our tent at night, we could hear them come out to investigate whether or not we had left any of food accessible to them. I didn't mind the skunks, as they seemed used to people and unlikely to spray us. The campground was okay for me back then, but now I would want to stay in a hotel . The prices go through the roof in the summer as tourists flood the island. We gambled on the weather in March, and we lost. I do not know if I will ever be back to Martha's Vineyard, except maybe to make a day trip out of it. It's a beautiful place, but for me anyway, in the winter it's too cold, and in the summer it's too expensive.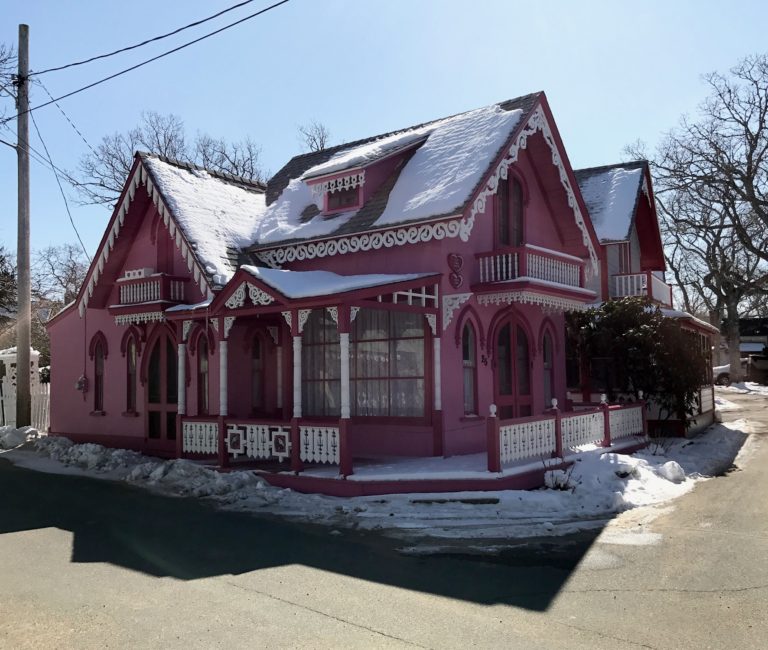 Springfield
Hampden County, Massachusetts, USA — March 2017 — Rally held in Springfield, Mass., to support the Springfield Jewish Community Center. Last week, the center was evacuated because a threatening note was found inside. There have been a wave of these incidents across the country. Very sad to see this kind of hatred alive and well in the 21st century. But it was good to see hundreds of people come out to the rally to show support for the center. I live in nearby Enfield, Connecticut. So many people in Nazi Germany stood by and did nothing while Jews were attacked…..I went to this rally because I did not want to be a "bystander" with anti-Semitism happening in my backyard. Speakers spoke out against prejudice toward Jews and Muslims. I agreed with what they said, but also thought the message would have been a lot stronger if someone had had the courage to speak out explicitly against the hatred inspired by radical Islam. No one mentioned the hate behind the bombing at the Boston marathon and the mass killings in Orlando, Florida, and San Bernadino, California. Let's speak out against all forms of hate and violence.
http://www.masslive.com/news/index.ssf/2017/03/springfield_residents_rally_ag.html#incart_2box
Southwick
Hampden County, Massachusetts, USA (North America) — 2016 — I spent the first five years growing up in the woods in the country. Southwick was where I took my first steps, made my first friends, and hunted my first skunk (granted, we never found one to tame as a pet).I was raised right on the edge of the line in town that went from suburban homes to acres of barns and fields. The townhouse I lived in wasn't the best place to be raised in with three other sisters, but we made do. Right in our back yard was a huge forest-like area that my sisters and I would run off into when we wanted to "run away from home" when really we wanted to go find the wild blackberry bush that had bounties if fresh blackberries for us to munch on. I remember once that a lady was visiting her daughter for a few days, and she brought her horses with her from her ranch. The lady was on her way to a horse show. I never got to see the show since it was all the way down in either Connecticut or Rhode Island, but she did teach me the beginning basics of riding a horse. My mother would b furious that I spent most of my day outside the house with some stranger's horse, but at the same time, she didn't mind since it got me out of her hair.
West Springfield
Hampden County, Massachusetts, 01089, USA (North America) — 2016 — Living across from the Big E…. Imagine living across the street from the largest fair in the Northeast…a fair that lasts 17 days! Definitely a concern for me when I moved into a place right across the street from the Eastern States Exposition (known as the Big E) in 2004. And I do mean RIGHT ACROSS THE STREET. Would I have to leave town during those 17 days? What about the traffic and the noise from the bands? As it turned out, I quickly learned the back routes to get around most of the traffic. The noise wasn't overwhelming. I bought a season pass that allowed me to go over to the fair anytime I wanted during the 17 days. I started taking in the fair a little at a time.
I started to feel sorry for the families coming with their kids on the weekend, fighting the crowds and trying to cram it all in in one day. They were missing so much of the fair, I realized. After a couple of years, I knew the Big E inside and out, and had my own favorites, like the bears, who put on quite a show when they are awake. Despite my fear of heights, I always rode the ferris wheel once, getting a spectacular view of the entire fair. Each year I allowed myself one cream puff, but I never went for the Craz-E burger, a disgusting concoction that includes cheese, burger, bacon on a glazed donut! When she was little, my daughter told me that we lived in the best place in the world because we lived across from the Big E. The neighborhood around the Big E changed dramatically while the fair was going on. Almost everyone who had a yard made money by parking cars. So everywhere you went, people were standing outside, waving to passing cars. They posted signs – maybe just $5 on a weekday to park, but some prime locations could get $20 per car on a busy weekend. I heard a story about someone with a big yard making $15,000 one year. The fair always starts in September and usually extends into the beginning of October.
The rest of the year, I often walked around the empty fairgrounds for exercise, or went to the dog shows and horse shows that were held there. Sometimes as I walked around, I would see a wedding being held at the Storrowton Village, a small section of the fairgrounds that includes a gazebo, restaurant, and a reception hall. And in 2013, that's where my fiancé and I decided to hold our own wedding. And that's when I moved away. We go back to the Big E every year, but only for a day or two, fighting the crowds and trying to find parking like everyone else. I live in a more affluent neighborhood now, but part of me still misses those days of being able to walk out my door and cross the street to the Big E.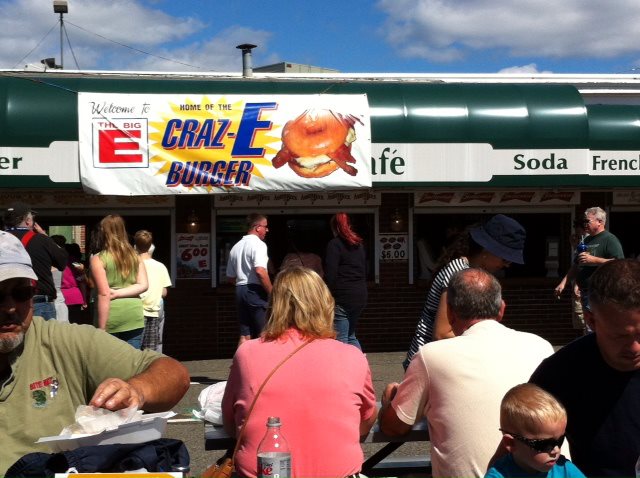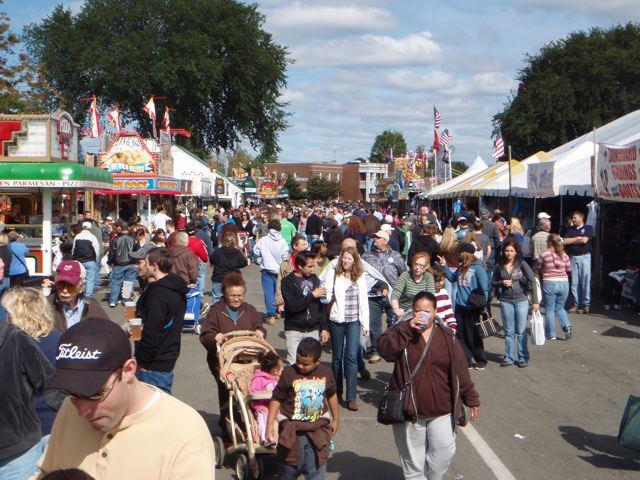 West Springfield
Hampden County, Massachusetts, USA (North America) — 2016 — On June 1, 2011, a tornado ripped through West Springfield. I never expected to have to worry about tornadoes in this part of the country. I did not know what was happening when I was driving home and saw leaves and branches everywhere. And a tree seemed to be knocked down at Memorial School on Norman Street.  When I arrived home, near the Eastern States Exposition (The Big E), my daughter told me that a big gust of wind had blown through the open window. Then we heard on TV that a tornado had gone through the area and that more could be coming.  We grabbed our cat and spent the next few hours in our basement. We made the national news that night and relatives and friends called to find out if we were all right.
We heard that people at the Century Plaza Shopping Center had seen a tornado in the parking lot! We also heard the sad news that a West Springfield woman died shielding her daughter as the tornado destroyed their home. My daughter's school was canceled for days. The day after the tornado, my daughter and I walked all over the neighborhood, taking pictures of the destruction.  West Springfield was not the only town hit.  The tornado caused tremendous damage in other towns, including Monson.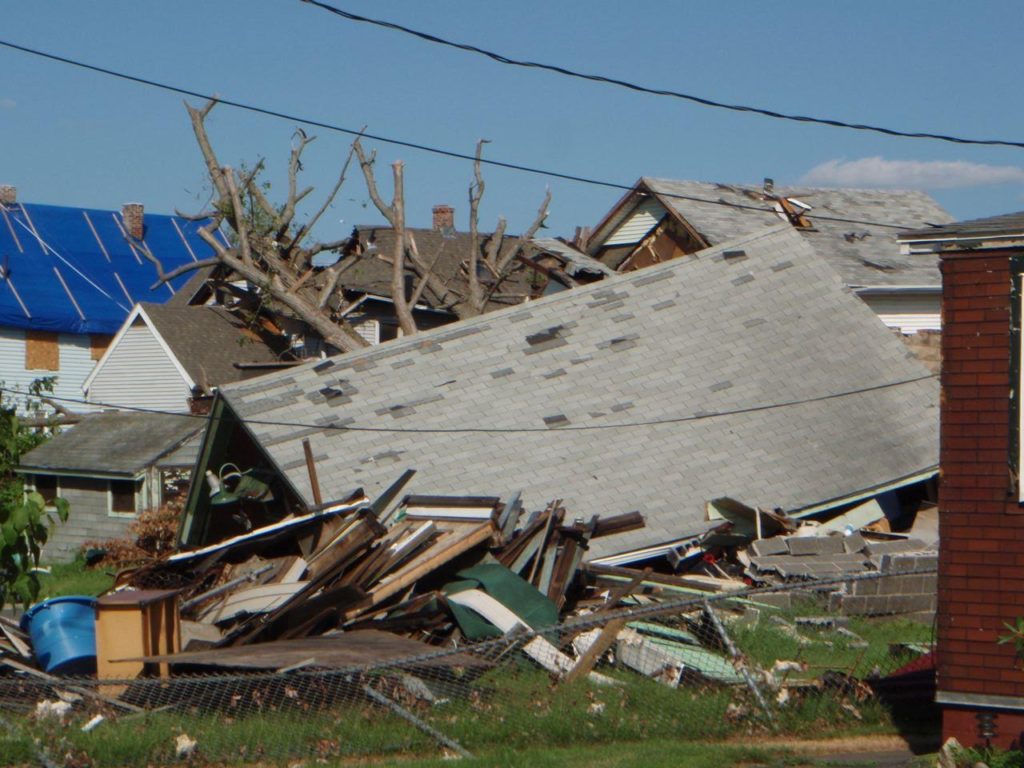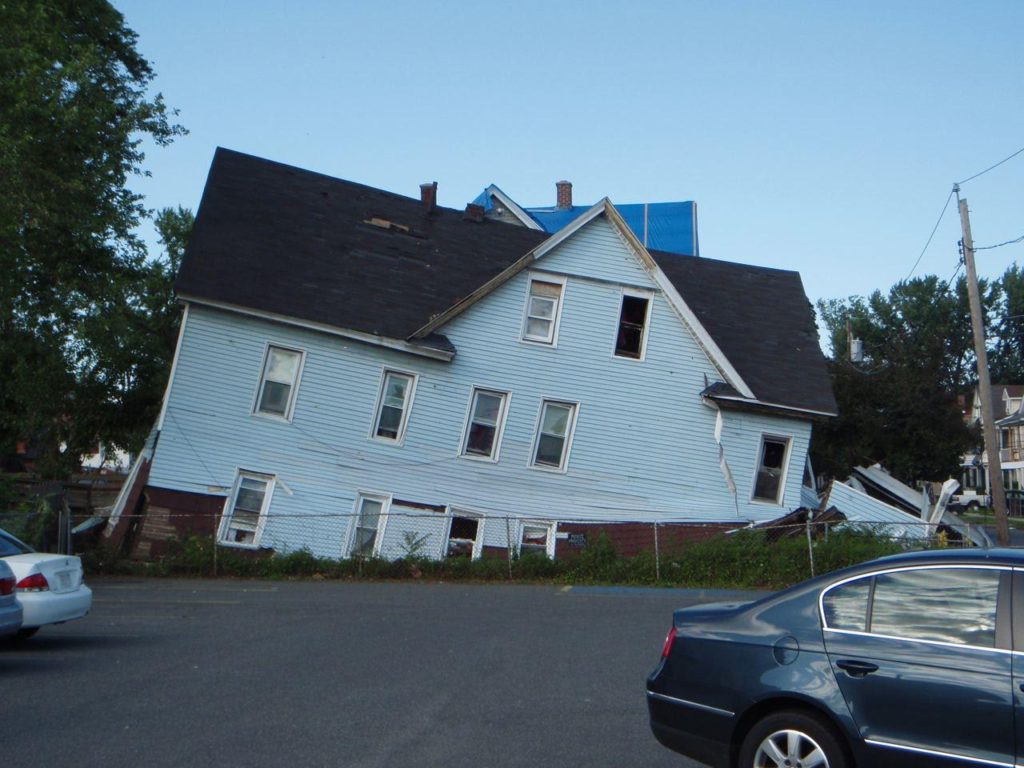 Northampton