Have you lived in or visited Pennsylvania? Tell us about it!
Lansdale
Montgomery County, Pennsylvania, USA (North America) – March 2019 — The name of my hometown was Lansdale. It is in Montgomery County in the United States. The time frame of my town growing up was the 1990's. Growing up in that home town was very strange at first. My parents had immigrated to that town from another town across the county. From there, we stayed there for pretty much most of my formative years. Growing up I was an immigrant. I didn't fit in with everyone else in the town. However, kids weren't like they are now. It seemed they were more friendly and open. What I liked was even though I was in the minority, everyone seemed to welcome me with open arms. I loved that neighborhood. The road was in a typical neighborhood with small houses lining the street. Children could come and go as they please speeding up and down the road with no traffic except neighborhood traffic. In between play sessions, we could always watch out for cars coming otherwise it was a free road. There were many friends to be made during this time period. Since my sister was there, she of course had many of her friends but I did have some guy friends that I hung out with. We played different games that children did play. I liked the openness of the area and that the place was relatively safe. There were little shops I could go to but I had to use my bike to travel. There was also a playground that I could go on but it was rarely used. I really had no dislikes about the town. Since everything was new to me. I felt like everything was positive. I really had no negative moments except when the neighborhood kids had some bad kids around that started throwing rocks and stones. I do have some special memories of the town. There was a trail in the back of the neighborhood where we built a wooden fort. It stood for the longest time until a new development was built in it's place. Otherwise, I really have no other special memories except being with friends and generally trying to have fun growing up. I'm not still there but in passing I have seen the town and it has relatively stayed the same. It was a relatively small city. It was your run of the mill suburban neighborhood with small houses and trees lining the area and good spacious grasses. It doesn't have any traffic lights with the exception of roads around the area. I will forever have fond memories of the area.
New Tripoli
Lehigh County, Pennsylvania, USA (North America) – August 2019 — New Tripoli, PA, USA – 1970s This is a rural, farming town and I grew up on a farm. Farming wasn't our business, but my father rented our fields to neighbor farmers and my sister and I had full run of more than 20 acres of fields and forests. We spent most of our time outdoors, wild and free. Most of our local landscape consisted of farms, fields, forests, and mountains and occasional developments of homes radiating out from the tiny, one stop sign town. Now, more than roughly 75% percent of those natural landscapes have been overrun by homes and developments, strip malls and warehouses. There is still a great deal of natural beauty here, especially compared to surrounding areas, but I often reflect on what it was like when I was a kid and wish it was still that way.
Mahanoy City
Schuylkill County, Pennsylvania, USA (North America) – August 2018 — Visited this area while researching family history. I have never seen anything like this. This must have been what America looked like during the Great Depression. This town was built on coal in the 19th century, and many of the Lithuanian immigrants ended up working in the mines. The coal industry is still here, but is not what it used to be. The city consists mainly of row houses – attached to each other, no space between. Some are in pretty run down condition.
People I talked to almost seemed like they had to apologize for the town, explaining how it was not what it used to be. One person told me that every drug imaginable is available in town.
That said, many of the people are very nice. Those who have lived there a long time seem to have a rich network of friends and shared experiences. A wonderful library, great historical society, a church named after Mother Theresa (who once visited the town). Certain amount of charm to Mahanoy City. This is certainly not a place many people would plan to visit for a vacation. But I must say, I was intrigued by seeing this part of America, and enjoyed the trip in some ways more than some trips to large "tourist" destinations.
Our first night we saw a doe and two fawns cross the street in front of us. That was beautiful, but the downside is that with a thriving deer population, we also saw several deer lying by the side of the road, apparently struck by cars.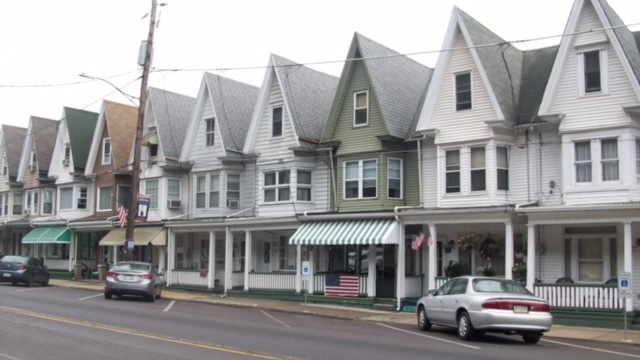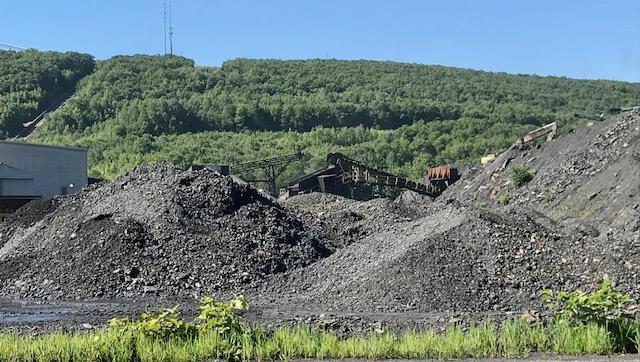 Hazleton
Luzerne County, Pennsylvania, USA (North America) — April 2018 — I reside in Hazleton Pennsylvania which is a small town located approximately twenty-five to thirty miles North of the Wilkes-Barre/Scranton area which is in Northeast Pennsylvania. I was born in this area and have lived here for the past thirty one years of my life. Hazleton is a medium sized town and is surrounded by multiple small boroughs that add to the beautiful surrounding areas. It is a beautiful rural area that is a great place to visit just about whichever season or month of the year that it may be, summer, spring or fall. it is a nice area to start a family and raise them here as well. The town however sometimes tend to gets a bad wrap about the influx of illegal immigrants and you will occasionally hear people say that they plan on moving out of the area due to the population of non-English speaking immigrants, although they rarely ever do so.
Reading
Berks County, Pennsylvania, USA (North America) — March 2018 — I like Reading, PA somewhat because there is a variety of landscape in the area. If you want to visit the city, they have medical centers available and movies in town. You have options for a small variety of theatres, but they do have IMAX available. They also have various restaurants at every corner in the suburbs and cultural restaurants in the city. Nearby are shopping centers that are open throughout the year and give you something to do each day. They have entertainment centers as well for the children to go to but sometimes they can be expensive. The best thing about the area is the public library system. They have programs for the children, therapy dogs, and you can reserve books from the county wide system. The librarians are well informed and helpful when you have a need for learning, fun, and enjoying the community. Traffic is okay but some roads could be better designed to prevent difficult mergers especially on bad weather days. The town has local events for holidays for the children often. They have options for a variety of sports and afterschool activities to participate in, but they all cost some bit of money which can get expensive. It is hard to find activities that are sports that are free to the children which makes it difficult for a medium sized family with several children to participate. Also, sports aren't always walking distance so that is hard all the travel involved especially if you have multiple children participating.
Pittsburgh
Allegheny County, Pennsylvania, USA (North America) — March 2018 —I like Pittsburgh because it is diverse and offers everything you would want from a city but is also affordable. There are a lot of outlying suburbs that are close enough to the city that you can easily come in and out of the city without having to live directly in it. If you do like the city life, there are many different neighborhoods (Lawrenceville, Shadyside, Oakland, etc.) that have a lot to offer depending on what you need. There are a ton of universities as well as a thriving cultural district downtown. There are plenty of job opportunities in business, healthcare, and more. There is great healthcare due to a large number of well ranked hospitals with highly respected surgeons and physicians within the city limits. One of my only complaints about living in Pittsburgh is the weather and traffic infrastructure. The weather is often cloudy and Pittsburgh gets a lot of rain. Sunny days occur most often during summer but in the fall and winter, days and weeks will go by without full days of sunlight, which can be difficult for some people. Pittsburgh has a lot of tunnels and bridges which makes for beautiful landscape, but is difficult when it comes to traffic. There are only a few specific tunnels and bridges in and out of the city that can get very congested during rush hour. Trips that normally take 15 minutes can take up to 60, depending on the day.
Philadelphia
Philadelphia County, Pennsylvania, USA (North America) — March 2018 – I currently live in Philadelphia, Pennsylvania, USA. I live on the west side of town and there is a lot to like about the city of brotherly love, as it is commonly referred to. I have lived here since July, 2014 and it has changed very little in this short period of time. Philadelphia spans a couple of miles in each direction, with the Delaware river closing off it's east shore. This allows Philly to feel like it is a little bit larger than it is. The river provides an area where people can go walking, and brings in tourists as well. The food scene is one of the highlights of the city. As a Colombian native, I am always looking to find the best colombian restaurants anywhere I visit. Philadelphia happens to have several of these restaurants, such as MIxto and Tierra Colombiana. They are both places you must try! Other than that, the public transportation is quite good. SEPTA, as it is called, is made up of trains, trolleys and regional rail lines that span across all major areas of the city. It is hard to live somewhere where the trains will not reach you within a short walk. This makes the city walkable and feel cozy. The weather can be harsh both in the summer and winter, with plenty of snow at times, especially in January / February. The only thing I dislike is that some of the people can be quite rude and not care less if they hurt your feelings.
Johnstown
Cambria County, Pennsylvania, USA (North America) — February 2018 — I am from the city of Johnstown, Pennsylvania. It is a small city in western PA. It used to be a major city in the steel industry but with the coal mines drying up and the mills closing down. I was born and raised here. I have lived all over the world but keep coming back to this city. What impresses me the most about her is her resiliency. She was once named the worst city in the state to live in. Supposedly people here had no future with no jobs. The city was dying. But rather than giving up, the people here turned to new industry. Rather than focusing on the blue collar jobs that built this city, we adapted and found a new industry. We turned to health care and the medical profession. Over the past twenty years we have built major hospitals and large medical facilities. We have become part of the leading edge of the industry when it comes to research and development and have become known through the region when it comes to specialized care and treatment as well as research into such diverse fields as cancer treatment, neurological rehabilitation and the like. I am very proud of this city and all her people.
York
York County, Pennsylvania, USA (North America) — January 2018 — I grew up in York, Pennsylvania (17402) in the United States during the during the 2010s. York is located in the south central region of Pennsylvania. Growing up there, I never truly appreciated the opportunities and events present inside of this community. As a child, I was able to explore music, the arts, athletic pursuits, and had a great education at one of the MANY school districts in the area. I loved the cultural diversity of this area. Many people live in and around the city, but in the same school or community you can have people who live a mile from any other home. While areas of York are quite populated, traffic is never impossible to navigate and it is a great place to live if you are not a city person. My family's number one activity was traveling to a local lake (Redman, Williams) to hike around the lake. We would also visit surrounding forests for hiking, and Rocky Ridge's winter lights show. Another staple of my childhood was going to the York City market on Saturdays and getting fresh produce and delicious lunch.
As I've grown older, I have definitely learned to appreciate the activity surrounding York. I now live in a place that doesn't not have the ability to drive a short distance to visit a culturally different place. Surrounding York is Lancaster county, known for its rich Amish culture and antiquing. Drive a little further and you can visit King of Prussia and eventually the city of Philadelphia. You can also day-trip to Hershey, PA known for Hershey Park and Chocolate World. I have wonderful memories doing all of these things. I have been to Hershey Park at least 10 times, all my school trips were to there! I truly think that York, PA is an intersection of all of the areas that make the state of Pennsylvania great.
Danville
Montour County, Pennsylvania, USA (North America) — January 2018 — I grew up in a small borough in Central Pennsylvania called Danville and lived there from the time I was born in 1979 until I moved out of the area after college in 2001. Danville is a small town so you know everyone. This is great if you are going through a tough time and need help or if something great happens and everyone else will encourage you. It's not good if you're going through a rough time and rumors are starting or if you just want to run to the store for something quick without changing out of pajamas or brushing your hair because you're always bound to run into someone you know.
The other thing I did not like about Danville is that there is a large division between the wealthy and everyone else. There is a large hospital in town so a good majority works at the hospital, many as doctors or administrators so they have a lot of money which they are not afraid to flaunt or make others know who they are and what they have. There is a lot of history in Danville, the T-Rail was created and it was a town that was built on the iron industry. It is on the edge of the anthracite coal region so it has a rich immigrant history and is located along the Susquehanna river which was dredged for coal.
It's funny because I moved out of the area almost twenty years ago but my family still lives around Danville and when I go home I still see a ton of people who I know. Recently we went to eat in downtown Danville at a popular italian restaurant and while we were eating I saw at least five families who I knew come in, everyone looks a little older but they're still the same people.
Avondale & Kennett Square
Chester County, Pennsylvania, USA (North America) — January 2018 — The place where I grew up was known as Avondale, Pennsylvania. My hometown was a pretty suburban area, and I really loved it. We would go outside and play all the time, and I was able to go to my neighbors homes pretty much whenever. My best friend growing up was actually one of my neighbors, but I was friends with all of them. I would look forward to days when it was snowing so I could go sledding all day and shovel my neighbors driveways for money. We had a dog for a while with a shock collar, so he would always go outside with us and we would play. Growing up my family had a lot more money than we do now. It was around middle school that my dads job started to slow down, and then he eventually lost it my last year of middle school.
I ended up staying with my uncle for the time being in Westchester Pennsylvania. After my parents got back on their feet, we ended up moving to Kennett Square Pennsylvania. This was actually the hometown of my school, and right down the street from my high school. Although we did not have much money in high school, I was really involved with football and my friends, so it turned out being a great 4 years. My family is still happy, we just have never had much money to do things. Kennett is a beautiful city that is growing every day it seems like, and I am able to walk around and meet new people everyday. These are really the only two places where I grew up as a kid, and I still go there pretty often as that is where the majority of my friends live.
What I dislike about my hometown is that there are many cops there, and they really take traffic violations seriously.
I guess there is not too much that goes wrong in my town, so the majority of the funding for the police comes from traffic violations. Anyway, for this reason, you literally have to make sure you never go over the speed limit, or you'll get pulled over. This is incredibly annoying, and really makes you dislike the police in the area. Growing up, however, I did not really need to worry about this, and up until high school, never really had any problem at all with the place that I lived.